It's not easy choosing the best online casino to play your favourite games whenever you feel like, particularly when there are so many on the market to choose from. Thankfully, here at Best Deal Casinos we've done the hard work for you by comparing all of the best online casinos. We personally research a number of different brands and explore the number of bonuses, promotions and the overall experience they offer their members. We also compile reviews for all websites from their existing users so you can see quite clearly which online casino has been voted the best by our readers according to its ranking on our site. To whet your appetite, we've taken an in-depth look at the top 5 sites among our online casino reviews.
Coral Casino
They've been one of the biggest names in betting since 1926 so it should come as no surprise that Coral is at the very top of our online casino reviews. First established after Joe Coral (real name Joseph Kagarlitski) first borrowed some money from a friend who owned a local café and began operating betting pitches at a number of greyhound tracks. His business quickly grew to a point where he opened his first shop in 1961 and then an online casino in 2005.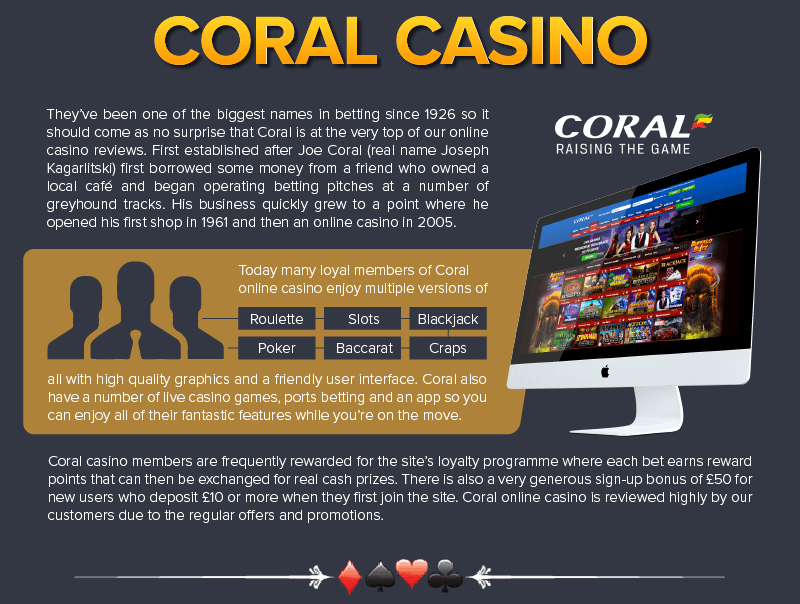 Today many loyal members of Coral online casino enjoy multiple versions of roulette, slots, blackjack, poker, baccarat and craps all with high quality graphics and a friendly user interface. Coral also have a number of live casino games, ports betting and an app so you can enjoy all of their fantastic features while you're on the move.
Coral casino members are frequently rewarded for the site's loyalty programme where each bet earns reward points that can then be exchanged for real cash prizes. There is also a very generous sign-up bonus of £50 for new users who deposit £10 or more when they first join the site. Coral online casino is reviewed highly by our customers due to the regular offers and promotions.
Ace Kingdom
Launched in 2015, Ace Kingdom are barely a year old but already find themselves in good company among our top casino reviews. They are powered by Ladbrokes and have a wide range of games from Playtech and Quickspin, who are some of the leading games and software providers in the industry.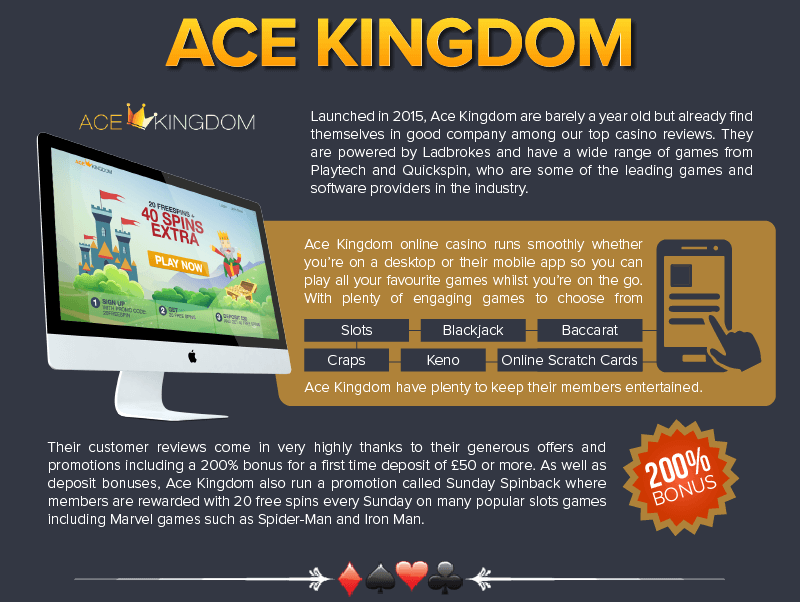 Ace Kingdom online casino runs smoothly whether you're on a desktop or their mobile app so you can play all your favourite games whilst you're on the go. With plenty of engaging games to choose from including slots, blackjack, baccarat, craps, keno and even online scratch cards, Ace Kingdom have plenty to keep their members entertained.
Their customer reviews come in very highly thanks to their generous offers and promotions including a 200% bonus for a first time deposit of £50 or more. As well as deposit bonuses, Ace Kingdom also run a promotion called Sunday Spinback where members are rewarded with 20 free spins every Sunday on many popular slots games including Marvel games such as Spider-Man and Iron Man.
Casino Cruise
With the help of a very unique nautical theme of a casino set on board a luxury cruise liner. All of the wide games use the very best graphics to reflect the theme plus there is a prize draw every month to win a real life luxury two week cruise for two people.
Casino Cruise online casino has a large number of popular games that includes roulette, slots, poker, blackjack, baccarat as well as a number of live video casino games, a mobile app and sports betting.
Members are rewarded for their loyalty and are eligible for a sliding scale of bonuses depending on their deposits. There is a 100% bonus on all deposits up to the value of £200 plus 100 free spins on the very popular Starburst game.
Ladbrokes Casino
Following their first establishment in 1886, Ladbrokes have come a long way since they were commission agents for horses in Worcestershire to a leading name in UK betting. Today they are thriving both in their high street bookmakers and online with a number of the world's favourite casino games including blackjack, slots, roulette, blackjack, craps and bingo.
Ladbrokes online casino also has a mobile casino app, live video casino games and a range of sports betting options. The site also receives high reviews due to their welcome bonus of a £50 bonus with the first deposit of any new members. A number of ongoing promotions and bonuses are sent to players via email including discounted entry to games and loyalty bonuses.
Casino Room
A very modern online casino with an underlying theme of simplicity that makes Casino Room a very eye-catching website with a fun and engaging experience. The site is run from Malta and regulated by the UK gambling commission, they have a range of the latest games on offer including slots, roulette, blackjack, baccarat as well as live casino games and a mobile app.
Casino Room also scores highly among our top online casino reviews thanks to their exciting bonuses and promotions that include a 100% deposit bonus for new members and free spins on their Starburst game. The maximum is a £500 bonus with 200 free spins, members can check the status of their spins by logging into their account.