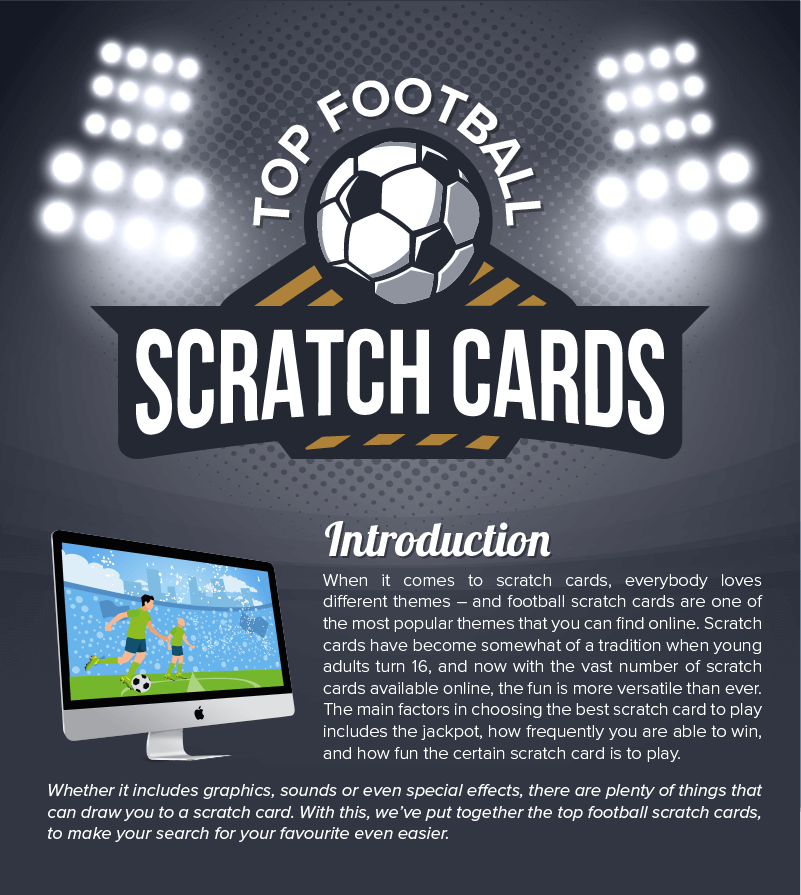 When it comes to scratch cards, everybody loves different themes – and football scratch cards are one of the most popular themes that you can find online. Scratch cards have become somewhat of a tradition when young adults turn 16, and now with the vast number of scratch cards available online, the fun is more versatile than ever. The main factors in choosing the best scratch card to play includes the jackpot, how frequently you are able to win, and how fun the certain scratch card is to play. Whether it includes graphics, sounds or even special effects, there are plenty of things that can draw you to a scratch card. With this, we've put together the top football scratch cards, to make your search for your favourite even easier.
What Is A Scratch Card?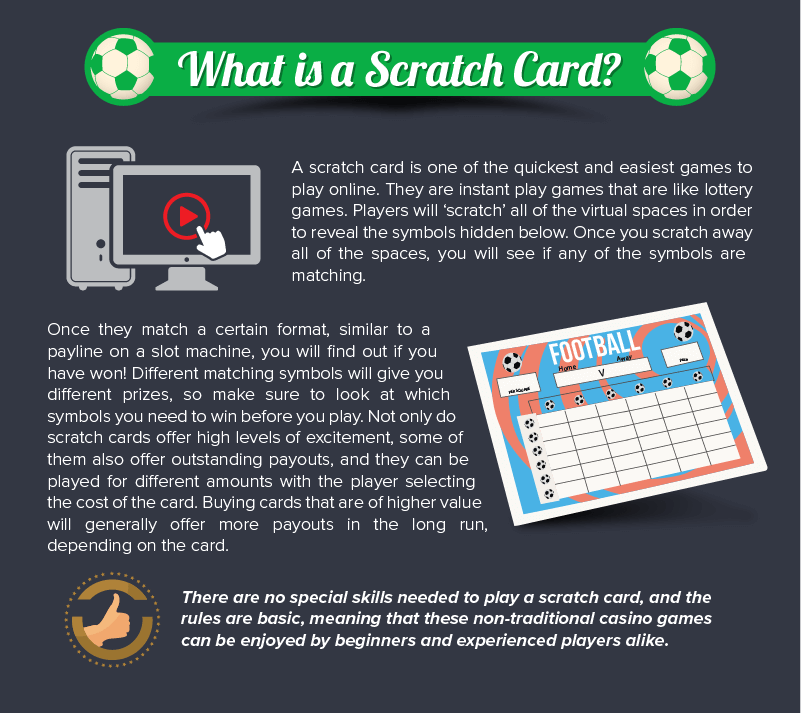 A scratch card is one of the quickest and easiest games to play online. They are instant play games that are like lottery games. Players will 'scratch' all of the virtual spaces in order to reveal the symbols hidden below. Once you scratch away all of the spaces, you will see if any of the symbols are matching. Once they match a certain format, similar to a payline on a slot machine, you will find out if you have won! Different matching symbols will give you different prizes, so make sure to look at which symbols you need to win before you play. Not only do scratch cards offer high levels of excitement, some of them also offer outstanding payouts, and they can be played for different amounts with the player selecting the cost of the card. Buying cards that are of higher value will generally offer more payouts in the long run, depending on the card.
There are no special skills needed to play a scratch card, and the rules are basic, meaning that these non-traditional casino games can be enjoyed by beginners and experienced players alike.
Best Football Scratch Cards
Scratch & Match
CORE Gaming created an exclusive range of football themed instant win scratch cards for Ladbrokes Casino which included 4 new scratch card games, known as Scratch and Match. These are able to be played both online and on mobile, and players are able to scoop up a top prize of £250,000. The four scratch cards include: Scratch and Match Trophy, Scratch and Match League, Scratch and Match Premier, and Scratch and Match Super Cup. Each instant win game costs from £1-£10, and the prizes go up in value depending on the stake. In the first game, players must scratch away at football shirts, and a pay-out of up to £50 is guaranteed if they reveal a 'No. 7'. In the second game two players must find a 'Goal' within one of six symbols in order to win a fixed prize. The big money lies in the 3rd and 4th games, with players needing to match up three symbols to win either £10,000 or £250,000.
The Big Match
Another scratch card game with Ladbrokes Casino, this one is relatively simple, and the instant play option is available for a minimum stake of £0.10 and a maximum stakes of £5,000. The rules remain the same. All you have to do is scratch away at the spaces, and aim to match three icons to win the amount that is shown. Simple. The amount that you could potentially win is dependent on the initial amount that you stake. In addition to this, there is also a free play option which allows you to try out the game before you decide to put any money on it.
Football Mania
This scratch card is available at a number of online casinos including BetFair, EuroGrand, Bet365 and many more. This scratch card takes the fun of football mixed with the suspense and excitement of a scratch card to provide you with the ultimate football scratch card experience. For every football fan that enjoys casino games, they should look to Football Mania for fun and for real money. It's easy to play and the instant-win makes the game exceptionally exciting. The object is to find one symbol on the card of six different symbols that matches the prize symbol. Easy. A matching symbol could win up to £100,000 depending on the initial stake. The cards can be purchased at different prices from 50p to £10, and the more you pay the bigger the potential prize.
The most you can win on a 50p card is £5000 and the maximum prize value of £100,000 comes from a £10 card. You also have the option of shuffling the cards before you purchase. Under every virtual surface, there's a different football related symbol waiting to be revealed including football shirts, boots, trophies, gloves a red flag and the Football Mania logo. This game also has an exciting free play option so you can get the thrill of the card without even putting any real money bets on.
Scratch Card Odds
One advantage of scratch cards is that odds are generally much higher than most other games – due to the fact that scratch cards utilise fixed odds. A large majority of scratch card games offer odds of 1:3. This means that if you play 1000 times in one game, you have the chance to win 333 times in that game. Simply, the odds and the cards are predetermined when they are uploaded to the site, and the fixed odds system put in place ensures reliability and accountability – giving you a chance to increase your odds of winning the jackpot. You can enhance your odds even more, as if one game provides you with one chance to win, then purchasing two cards can double your winning chances, and four cards can quadruple your winning chances. This is why many online players tend to purchase a number of games in a session, which then brings them the pleasure and excitement of winning on a regular basis.
The main advantage of scratch cards is the instant-win factor, the fantastic odds and the number of different themes that you can encounter. If you're a football fan, there are plenty of online casinos that can give you some of the best football themed scratch cards available on the market. Although scratch-cards are a non-traditional casino game, the excitement they bring and the high demand for them has led to them being available in almost every online casino.