History of Keno
Keno is an ancient Chinese game that is the ultimate combination of the lottery and bingo and has now earned worldwide popularity. Popular legends suggest that the invention of the game saved an ancient city in the time of war and its blossoming popularity helped to raise funds that went towards the building of the Great Wall of China. In modern Chinese history, the idea of using lotteries to fund public institutions was not widely accepted before the late 19th century.
There is not a documented Chinese lottery before 1847 when Portuguese government of Macao granted a license to lottery operators. The Chinese played the game of Keno using sheets with Chinese characters instead of numbers, these were usually the first 80 characters from the popular Chinese poem the Thousand Character Classic, from which the winning characters were then selected. Keno was then introduced to the west by Chinese Immigrants when they sailed across the Pacific Ocean in the 19th century to help with the construction of the First Transcontinental Railroad.
How To Play
First you need to select between 2 and 20 of the 80 numbers (some casinos stipulate less) on the Keno table by clicking on them. If you change your mind you can deselect a number by clicking on it again. You can deselect all numbers by clicking the Clear button and then start again.As you select your numbers you will see the Payouts table and your potential payouts will change depending on how many numbers you select. The payouts column on the table shows you how much money you could win for any amount of correct numbers drawn.
Then you need to select to select the amount you want to bed and then press Play One for one round or Play Five which will play a five-round series with the same selection of numbers.
Once you have pressed one of the Play buttons 20 numbers are then drawn. If you have a sufficient number of winning numbers then you are paid winnings according to the winnings table.
Where To Play
Now you know a little bit more about live Keno you may be wanting to play the game yourself and join in on all the exciting fun that you've been missing out on until now. Here we take a look at some of the top casinos to play Keno for free at your own leisure. It is definitely a good idea to take advantage of the available free-play options that many of the sites offer so you can practice and familiarise yourself with the game until you feel ready to play for real.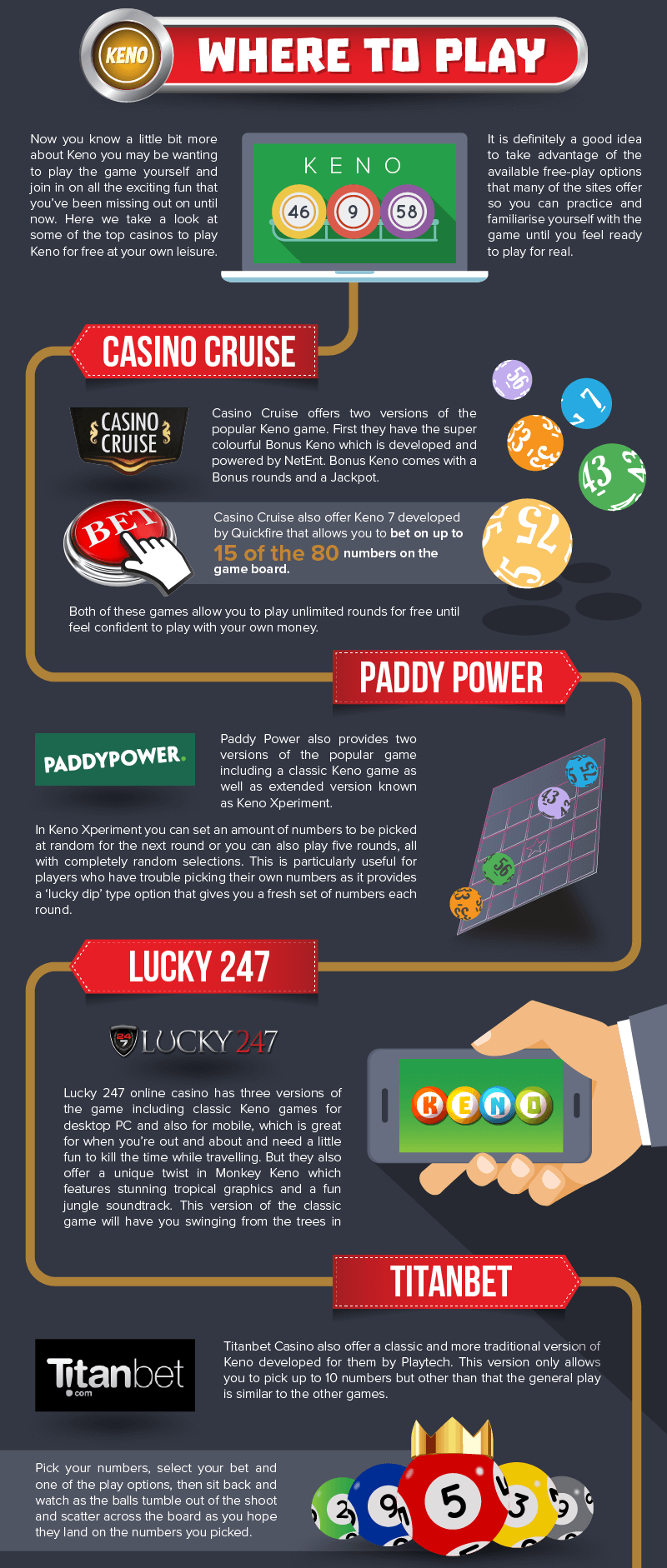 Casino Cruise
Casino Cruise offers two versions of the popular Keno game. First they have the super colourful Bonus Keno which is developed and powered by NetEnt. Bonus Keno comes with a Bonus rounds and a Jackpot. Casino Cruise also offer Keno 7 developed by Quickfire that allows you to bet on up to 15 of the 80 numbers on the game board. Both of these games allow you to play unlimited rounds for free until feel confident to play with your own money.
Paddy Power
Paddy Power also provides two versions of the popular game including a classic Keno game as well as extended version known as Keno Xperiment. In Keno Xperiment you can set an amount of numbers to be picked at random for the next round or you can also play five rounds, all with completely random selections. This is particularly useful for players who have trouble picking their own numbers as it provides a 'lucky dip' type option that gives you a fresh set of numbers each round.
Lucky 247
Lucky 247 online casino has three versions of the game including classic Keno games for desktop PC and also for mobile, which is great for when you're out and about and need a little fun to kill the time while travelling. But they also offer a unique twist in Monkey Keno which features stunning tropical graphics and a fun jungle soundtrack. This version of the classic game will have you swinging from the trees in delight.
Titanbet
Titanbet Casino also offer a classic and more traditional version of Keno developed for them by Playtech. This version only allows you to pick up to 10 numbers but other than that the general play is similar to the other games. Pick your numbers, select your bet and one of the play options, then sit back and watch as the balls tumble out of the shoot and scatter across the board as you hope they land on the numbers you picked.
Further Advice
Once you get your head around the rules of Keno and learn how to play you will soon find that it is really easy and fun to play. As with most games, the more you play the better you will understand it and the better you will become as a player. You should definitely take advantage of the many online casino sites that allow you the perk of freeplay options to practice your game before playing for real.
Tips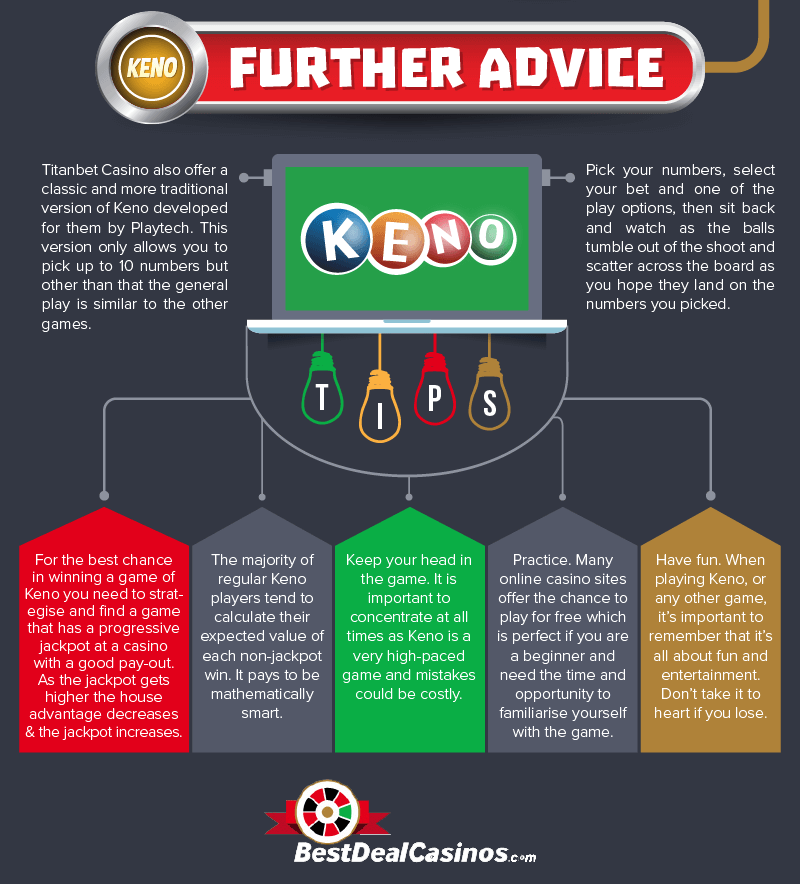 For the best chance in winning a game of Keno you need to strategise and find a game that has a progressive jackpot at a casino with a good pay-out. As the jackpot gets higher the house advantage decreases and the jackpot increases.
The majority of regular Keno players tend to calculate their expected value of each non-jackpot win. It pays to be mathematically smart.
Keep your head in the game. It is important to concentrate at all times as Keno is a very high-paced game and mistakes could be costly.
Many online casino sites offer the chance to play for free which is perfect if you are a beginner and need the time and opportunity to familiarise yourself with the game.
Have fun. When playing Keno, or any other game, it's important to remember that it's all about fun and entertainment. Don't take it to heart if you lose.