Second to the lottery, scratch cards are the most popular way of gambling for every adult from all different walks of life to gamble. Scratch cards are instant, easy, cheap and more importantly rather fun. Although scratch cards are a rather recent phenomenon, they were invented in 1974 and in this modern age of instant gratification the popularity has continued to grow in numbers. As who wants to wait up to a week to find out if they have won the lottery or not?
There has been a long tradition of popping down to their local newsagent to purchase a scratch card in the hopes of winning some cash. There is no greater feeling then picking up a scratch card, and scratching away the surface to reveal whether you have won or not. Now you are no longer restricted to popping down to your local shop as, thanks to so much technology at our fingertips, the joys of scratch cards can now be accessed online, they are also improved and come in a variety of variations.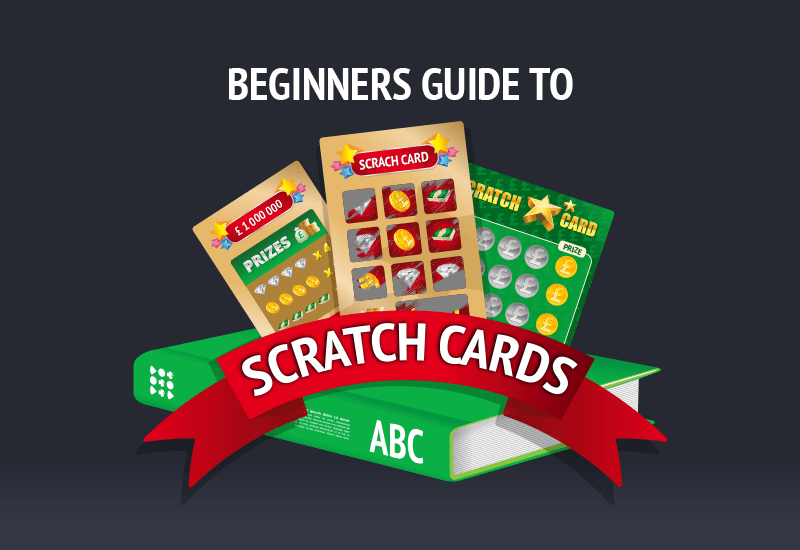 As well as being the most popular form of gambling, scratch cards are probably the easiest as well. The game requires very little skill and it's completely pot luck whether you win on normal scratch cards or online ones. If you want to know your odds before you bet any money, this guide will tell you everything you need to know about online scratch cards.
The Basics
Everyone who turns 16 in the UK will be familiar with physical scratch cards as it seems to tradition to purchase one on your 16th birthday. Scratch cards are also commonly known as instant lottery tickets. They represent the ultimate form of quick gambling which most people can easily understand, all you need is a coin to hand to be able to play. Once you have made your purchase, all you need to do is scratch the coating to reveal if you have won. If you have, then you can redeem them. If you have won online you will automatically receive your prize depening on the rules and regulations of the online casino you are playing on.
If you haven't won then there is always next time. However now in the 21st century, if you play online scratch cards checking to see if you have won is even easier, as tickets can be scanned to see if players are winners. Previously scratch cards have been played for rather low stakes, but now there are more expensive scratch cards offering higher stakes.
Online scratch cards are just as easy to play, as players don't even have to make the scratching motion. Just a simple click and all is revealed. It also means that there is no metallic dust either. When playing scratch cards online the game software instantly reveals winnings, then its on to the next one, if you wish. If you are after a specific theme then you are in luck, as online scratch cards come in a wide variety of choices. Online scratch cards don't need to be downloaded either so there are many flash and java-based cards out there making them easily accessible on mobiles too, so you have the joys of winning on the move.
Whats In A Game (Of Scratch Cards)?
When it comes to playing scratch cards, even online there is no real strategy involved. If you are looking to buy some online scratch cards then there are countless online casinos that have many different themes of scratch cards. All you need to do is register with the online casino, choose a payment method and then select the scratch card you want to hedge your bets on.
Online scratch cards are often available at most online bingo games, as they are an easy and enjoyable way to pass the time as you wait for your bingo game to start. All of the online scratch card games resemble the same experience you get with real or physical scratch cards. Most of the time all you have to do is hover your mouse over each panel to 'scratch' the surface and then it reveals all the symbols underneath. Or if you want faster results most online scratch card games will have an option for 'scratch all' and if you click that then you can find out the results out instantly.
The main difference with online scratch cards to the ones you buy in the shop is that you actually have better odds of winning with virtual scratch cards as online scratch cards actually work a lot like mobile slots. With a slot machine you press a button and hope the symbols line up and with scratch cards it is exactly the same you scratch the surface, and hope the symbols line up. The return to player rate on online scratch cards is far better than on the physical ones.
Types of Scratch Cards
Online scratch cards games are probably the easiest game to play on an online casino, as all you have to do is scratch to see if you have won. Previously not that many online casinos use to offer online scratch cards, and when they were available to be played they were used as fillers for other games like bingo and live dealer games.
This is now all changing as now many casinos offer jackpot scratches that cater to the scratch card player. If there is an option for jackpot scratch cards then look in to playing those games as they will offer the best prizes.
5 More Tips Before You Play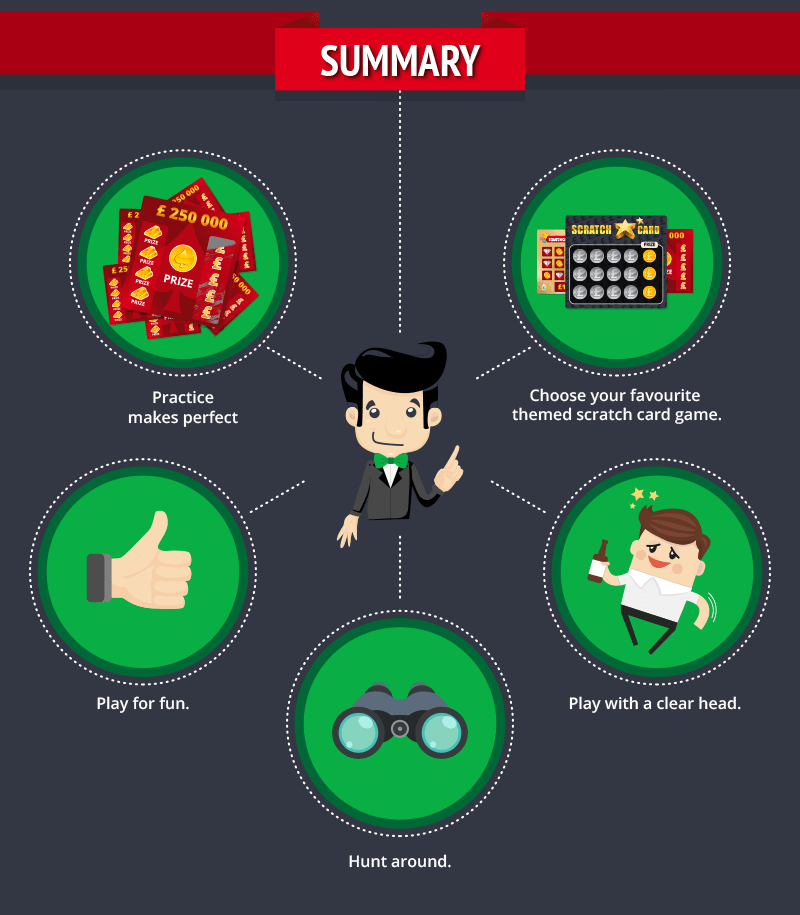 Like with any game you play, a beginner's guide can be a very handy tool but it will only cover so much. If you really want to learn to play scratch cards, then the only way you will get the full experience is by popping to your local shop to purchase some scratch cards. If even that seems to far then online scratch cards are just as much fun and they can be accessed on your PC, mobile and various other devices. That way you get the full flexibility of being able to play whenever and wherever you want.
To discover the best deals on scratch cards, then you can also find them here at Best Deals Casinos today. No matter how you choose to play, here are 5 more tips to check out before you play.
Practice always makes perfect. Use the option to play free scratch card games online before you play for real. Not only does this free up your time to find out what games you enjoy the most but you also get a feel of the game before you invest any money.
Before playing any online scratch cards, remember to choose your favourite themed scratch card game. This ensures that you will have an enjoyable experience as well as having the chance to win. There are themes that cover mystical games, fantasy, sports, casino-style scratch cards and so many more.
Have a hunt around for the best games and deals. Always choose scratch card games that offer an exciting variety of games to play, as that way you will ever be bored and you will find out what games provide the most winners.
Play with a clear head. This top tip should apply for any game you play. Intoxicants, and even prescription medicine can impair your judgement. The best way to play exciting scratch card games is when you have a clear head and then you can really appreciate your winnings.
Play for fun. Like all online gambling, scratch cards should be an easy and fun way to pass the time. Always make sure you are betting within your means, so before you invest any money, make sure you set yourself to that limit and don't exceed it to make up for what you have lost.
Please check out our other guides, including guides on Sports Betting, Baccarat, Bingo & Craps.