PartyPoker Casino Reviews of Promotions & Bonuses
PartyPoker Casino Reviews find that the welcome bonus on PartyPoker is quite a fair bonus. When you sign up and place your first deposit you now get £20 free to try your hand at cash games and tournaments. The first £10 bonus goes towards the site's casual cash games and the other is to play tournaments with £10 worth of free tickets. However this promotion is only available to players residing in the UK and is awarded within 48 hour of depositing a minimum of £10 into your account. One downside to this however, is that only one person per household/device is allowed to enter this promotion.
There are various large jackpot tournaments which you can buy into. The Grand Prix Poker Tour is one the UK's hottest live poker events. It is a multi-day event with multiple day 1 tournaments which will lead on to the final day. Winners will get a slice of a guaranteed $500,000. You can also join the PartyPoker UK community forum for exclusive promotions, tournaments, offers and updates. In addition to this is the cash game missions and sit and go mission all of which offer cash bonuses.
Our PartyPoker Casino Review found that there is a secure loyalty scheme too at PartyPoker. The program is easy to understand and easy to earn rewards with. Earning points playing either poker, in the casino or betting on sports, and you will gradually rise through the loyalty levels. All you have to do is hit the points requirement for the loyalty level each month to access rewards. Starting at Bronze and working your way up to Palladium, you can reward yourself with tourney tickets and cash in the Points Store.
PartyPoker Reviews of the Best Games To Play
Our PartyPoker Casino Reviews found that the PartyPoker site has array of different poker tournaments and games to play. If prestige is what you're after then the poker tournaments are where it's at. However, if you're looking to make real money then the cash games are what you should be playing. These cash games also train you to play real poker rather than risking you jumping into the deep end and losing a lot of money because you don't really know what you're doing.
Poker isn't the only thing that this site offers. The site also has a selection of live sports betting and casino games to suit everyone's tastes.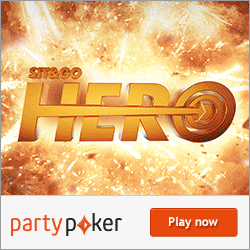 Our PartyPoker Casino Review found that there are also other games such as blackjack, roulette, slots and other casino based games to really give you a well-rounded experience. Melon Madness is one of the favourite jackpot slots with its brightly coloured, fast paced action; it really gives you an authentic casino feel. The European Roulette Pro game is possibly one of the best roulette games around. It is easy to use and is a thrilling game that gives you a good chance of winning. If you do fancy playing a game of poker, but the traditional version of Texas Hold'em isn't what you're looking for then try one of the other poker games out there. Pot-limit Omaha and 7 Card Stud Hi/Lo are just two examples of poker games with a twist. If you're a veteran poker player, then you may be able to work your way up to buying in to the World Poker Tour for life changing prizes.
PartyPoker Casino Review of Software & Gaming Graphics
Our PartyPoker Review found that in order to take part in PartyPoker, users must download and install the latest poker software (which is both free and 100% secure). Once this is done, players can create an account and add a deposit to start playing. The site contains high-stake cash tables and $10 million guaranteed monthly tournaments. New players can learn to play poker with the site's seven get started missions. These have simple objectives in order to help new players raise their game and take home prizes including cash, bonuses and tournament tickets.
Our PartyPoker Review found that PartyPoker uses 128-bit encryption to ensure the security and privacy of all players' data. In addition to this, their systems perform random security checks and other log-file reviews to maintain system integrity and fairness at the tables. To say the software has improved is an understatement. PartyPoker now offers one of the sharpest, fastest and most reliable poker clients you can find. The software is also able to run in several different languages which is always a bonus.
The site helps to provide a safe and fair gaming environment by employing algorithms and practices through a random number generator. This ensures that the site creates and maintains a fair gaming environment. This random number generator, which is said to be the most sophisticated in the online gaming industry, is used to shuffle cards before each hand is dealt in every game, whether it is a tournament, a cash game or a play money table.
PartyPoker's software also allows customisation of the player's picture, auto-buy-in to all cash games, cascading and tiling different tables when players are multi-tabling, which helps make user experience more complete. One of the best features that PartyPoker offers is the 'hot hand' alert which will notify you if you have a specific hand, for example of pocket aces or pocket kings. If you're an online poker player that likes to play on the go then PartyPoker will suit your requirements. The PartyPoker app is available for both Apple and Android devices and runs just as smoothly as a desktop version and works on WiFi, 3G and 4G.
There is a minimum system requirement needed to download the operating system. The site needs a Pentium system with at least 128MB of RAM. PartyPoker is not compatible with Linux software but it can play on the Java version of PartyPoker but most Windows and Mac versions are compatible with PartyPoker software.
PartyPoker Casino Review of Online Support
24/7 help is available on PartyPoker through an extensive FAQ section that covers account FAQs, technical questions, social FAQs and rewards FAQs. These FAQs go into a huge amount of depth on almost any question that you might want answered including how to make font changes for different computer systems such as Windows and Mac, the different types of bonuses that are on offer and even more technical questions to do with firewalls and ports and protocols.
In addition to this, there is an email option – the customer service department is 24/7 but there are also addresses for the cashier team and affiliate program and marketing. There is also a phone number to contact if all of the above options do not suit requirements. There is a list of countries on the site and when the chosen country is selected the contact number will appear. If the country is not listed on the drop down menu, there is a toll number that can be contacted. In addition to all of this there is a live chat option which is only available for real money players. The software used at PartyPoker is said to be state-of-the-art and is one of the safest online. The entire system sits behind one of the most advanced firewalls in the world and is constantly updated in order to ensure optimum safety for both the players' and the company's data.
It is also possible check up to five different kinds of transaction histories. These include a consolidated transaction history, gaming activity history, tournaments buy-in history for registered tournaments, tournament buy-in history for completed tournaments and free roll account activity.
PartyPoker Casino Deposits & Withdrawals
The site offers a variety of easy deposit options and guarantee fast cash outs. All payment processing transactions go through their onsite 'cashier' section. There is a huge selection of deposit options for each country that can download the software including Visa, Skrill, Neteller, PayPal, Maestro, MasterCard and many more. These options change with each country that is selected, determined by what the country allows.
Our PartyPoker reviews found that withdrawals will only be accepted if they meet sufficient wagering requirements with a maximum daily withdrawal amount of $20,000. You can request withdrawals from Your Account at any time and pay outs are likely to be paid partially or totally via the same method of payment and currency with which the deposits were made.
PartyPoker Casino Payout Policy
There is a limit on winnings with PartyPoker. The maximum aggregate amount that a player can win via the Sportsbook Facilities within any 24 hour period is £125,000 (this is dependent on currency). There is also a limit on how much a player can win on a single bet through the same facility which is £7000, again depending on currency).
Rather than charging a membership or subscription fee, PartyPoker take a rake – a tiny percentage of the pot and in return give players points to spend in our store. Tournaments are different however, with a fee to enter rather than a rake on every game. All tourney fees are shown on the buy-in screen and are posted in US dollars.
PartyPoker review of Pros & Cons
Pros:
• World-famous and well-established brand with a vast amount of experience
• Quality poker tables as well as the option to move forward
• Accessible to a wide range of countries including the US
• Download is smooth and software has a user-orientated interface and is easy to navigate
• A nice welcoming bonus for new customers
• Wide range of different poker games and tournaments
Cons:
• Lack of a variety other table games
• No rakeback
• Limit on daily and single bet winnings
• Download takes up a lot of space on a computer's RAM and isn't compatible with all devices.
• No live chat options amongst players creating a lack of community
PartyPoker Casino In Summary
Our PartyPoker reviews found that PartyPoker has everything you could possibly want from an online poker site. There's a large variety of poker games, competitive promotions, special events, a rewarding loyalty programme, great tournaments and cash games all of which will draw in different types of people from all over the world. The site is accessible in a large number of countries, including the US which is often left out on other software. In addition to this, Party Poker also has soft games as well as tough opposition in the tournaments which makes the site accessible and fun to play for both beginners and experience poker players. The site has a genuine focus on responsible gambling with a whole section of the website dedicated to knowing limits and prevention to ensure players know if they are gaming responsibly or not.
With only a few cons, such as the fact that there is no rakeback, which could put off some serious gamblers the site is almost one of perfection. The downloadable software is fast, sharp and of top-class quality. It's a professional playing environment, whose usability and unique missions which can teach people how to play are all reasons why PartyPoker will continue to be one of the most successful online poker card rooms.
Please check out our other casino reviews, including reviews on PinkCasino, PlayHippo, Prime Slots & Prospect Hall.