Partycasino Promotions & Bonuses
Partycasino reviews state the casino comes with a pretty nice welcoming package to its new customers, so it's no surprise to see why it's popular on that front. Your first deposit will be matched at 100% up to £100, while you'll also gain 50 free spins at the slots, which is a nice start to their promotion. The deposit bonus will have to be wagered thirty times to be able to be withdrawn as cash – it's not the lowest around, but it's far from the highest either. The free spins, meanwhile, which actually work out at a £15 bonus, only need to be wagered 12 times. That's not all, either – customers will also get a 100% match on their second deposit, going up to a very generous £400 maximum. This also comes with a 30 times wagering requirement. When you put it all together, it all adds up to a very nice bonus package for new customers at Partycasino, certainly competing with some of the biggest and best online casinos around.



Partycasino reviews also note the site also operates a VIP scheme to help you win back bonuses on your wagers, and while the money isn't great, it's only part of the other regular special offers they have for their regular customers. Taking everything into account, the overall bonus package at Partypoker is very nice indeed and will be a major draw for many customers thinking of signing up and creating an account.
Partycasino Best Games To Play
A Partycasino review finds this site to have a pretty extensive selection of games in their library with the focus, as with most online casinos, on slots. The software is mostly developed in-house, which is always nice to see, as it adds a bit of variety and gives you some unique games that you won't be able to get on other online casinos out there. In addition, Partycasino have picked some of the best games around from a host of other providers, so in terms of quality and variety, you're pretty well covered. Even if the collection of games isn't as colossal as certain other websites, there's still more than enough here to keep you occupied.
When it comes to table games, Partycasino doesn't quite have the same choice, but for a casino focused on slots, it certainly doesn't neglect them, although there are a couple of excluded games which certain punters might miss out on. Overall though, the games are of a high standard and the choice is rich and varied, and with some big progressive jackpots available too, there's something for everyone, regardless of play style and bankroll. It's also easy enough to click through to the other sections and services offered on the site, such as the more famous poker section. The very slight lack of choice is also made up for by the variety of their own home-brewed games on offer, so it's a definite pass mark for Partycasino here.
Partycasino Software & Gaming Graphics
As we've mentioned, Partycasino takes its games from a mixture of its own in-house development company as well as from cherry-picking other slots and table games from some of the biggest software developers in the online gambling world. The result is a good selection, but the risk of casinos developing their own games is often a lack of quality compared to the true experts in the field. Yet for the most part, that isn't the case here – the games are still good, and while they might not be up to the very best standards in the industry, those types of games are still available too. Mostly, their in-house games are well-designed and developed and offer something a little bit different that you can't find anywhere else, avoiding the feeling that it's another identikit casino using the same third-party games as dozens of other sites.
Handily, the casino is also well-optimised for mobiles, with a dedicated app available to customers on iOS or Android that you can download where the mobile games will be fully-optimised for use on handheld devices. This is always nice when it comes to cross-platform capability, where the drastic differences in screen sizes can pose a problem for some in-browser casinos. With a decent choice on their app too, you'll find that for mobile gamers, Partycasino are really one of the standouts in the online casino world.
Partycasino Online Support
As you might expect from such a company, Partycasino offer a pretty extensive customer support service. The three classic options of email, telephone and a live chat service are all available, and you can quickly be put in touch with one of their trained customer support team to solve any problems or issues you might be having with the Partycasino website. Even better, the phone line is completely free for a wide range of different countries, so you won't even have to pay if you want to talk over the telephone. They're also available 24 hours a day, seven days a week, so you can get help at any time.
Many Partycasino reviews by customers have stated that the live chat system is fast and responsive. The same reviews don't raise too many flags for problems with the site, which is generally well-designed if a big aged-looking at this point. Nonetheless, those problems that do emerge are usually quickly solved by the in-house customer support team. With the apps being more recent developments, they tend to have even fewer problems. With a very small number of issues being reported around withdrawals too, you can rest assured that technical hitches won't intrude on your enjoyment of Partycasino.
Partycasino Deposits & Withdrawals
Partycasino reviews find this site to have in general built the solid online casino experience you'd expect from such an experienced and well-known brand, and the nuts and bolts of the site all work very well to make things run as smoothly as possible. Unfortunately, this isn't the case when it comes to deposits and withdrawals. Partycasino add a needless internal pending period onto all of their withdrawals of up to three days, which is a real source of frustration for many people wishing to get their hands on their winnings. This is in addition to the processing time taken by the bank or e-payment company, too – pushing the majority of withdrawal times into over a week before customers can get their hands on their own money.
This Partycasino casino review states that a wide variety of payment options are supported, however, from major debit and credit cards to e-payment systems like PayPal, Skrill, and Neteller. Yet the last option, often used by players desiring quick withdrawals, is somewhat negated by the added processing time. Partycasino are far from the only company to do this, but it's a common frustration for players – it adds a needless amount of time to withdrawals and it's not hard to find other casinos that do things much quicker. For some players, it might be a serious turn-off.
Partycasino Payout Policy
Our Partycasino casino review states that when it comes to the actual payout rate of the games on Partycasino, they take the very welcome step of publishing all of their RTP (return to player, or house edge) rates in full, so you can easily see how much your winnings and losses will be expected to be over the long-run. This is great for players who like to sit down at one game for a long period of time, and for those looking for the best deal. Even better, all of these figures are published in one place, so you can check out all of the ratings in a quick glance without having to click through to the page for each individual game first.
Partycasino casino reviews mention that it should be noted, however, that although the payout rates are published, they're not exactly industry leaders. A huge number of games fall around the 93% mark which, while not uncommon, is far from the best rate you can find out there. Yet with the figures all published in one place, you can easily find their games that have the highest rates and go on from there. Because of that, it's not a huge problem that the average rate is lower than many other online casinos – you can still find out where the highest rates are and take advantage of that. Overall, this is a major positive and one big advantage to using Partycasino.
Partycasino Pros & Cons
Pros:
World-famous and well-established brand to lend trustworthiness and experience to a very comprehensive online casino experience
Good selection of games from both in-house developers and the best third-party software companies in the business, combining uniqueness, quality and quantity in an excellent library of both table games and slots
Huge progressive jackpots available on some of the slots in their collection
Dedicated apps for both Android and iOS to ensure that mobile gamers are getting a great deal too
A very nice welcoming bonus for new customers, with standard or low wagering requirements to increase your likelihood of profiting
Fully-published RTP rates all in one place allow you to find out which games offer the best deals and compare them all in one handy page
Great customer support with 24 hour availability for phone, email and live chat
Cons:
Frustrating internal processing period added on to all withdrawals, making getting your hands on your own money a drawn-out affair
Focused on slots, so the choice of table games may be superior at some other online casinos out there
Website is a bit dated in design and not very fresh-looking
VIP section doesn't offer a great rate of return
 Would've been nice to see better regular offers and promotions
Partycasino In Summary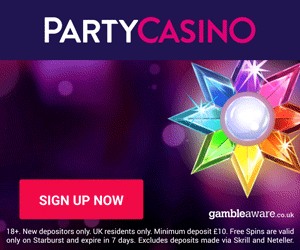 In conclusion to this partycasino review , there's no doubt that Partycasino offers a really great service when it comes to creating a viable online casino. The software is an excellent mix of third-party and in-house developers, and it creates a really nice and unique library of games that gives the place a personality rather than making it just another identikit Playtech or Net Entertainment casino. The welcoming bonuses will also be of some appeal to players looking to make a big deposit somewhere, and the wagering requirements aren't too bad for them either. In addition, you get great customer support and excellent cross-platform capability, making it one of the best mobile casinos out there too. It's a really good package.
Partycasino casino reviews mention it's just a shame that the long withdrawals thanks to their internal processing time add a needless black mark on an otherwise very solid casino. Some players may not be too bothered by this, but it can be hugely frustrating for others who want to get their hands on their winnings as soon as possible. It's hard to argue that Partycasino really lets itself down in any other area, which is another reason why it's so frustrating that they've chosen to do this. Despite that, it really shouldn't be a deal-breaker for potential new customers – particularly with the nice sign-up bonuses and general smooth, hassle-free experience, it's definitely worth checking out. Click through to www.partycasino.com and find out if it's for you.
Please check out our other casino reviews, including reviews on PartyPoker, PinkCasino, PlayHippo & Prime Slots.