NetBet Casino Promotions & Bonuses
NetBet casino reviews find this site to have a pretty standard welcome bonus for new customers, allowing you to double your initial bankroll by matching your first deposit at a value of 100% up to £200. So if you're looking to start by depositing £50 of your own cash, you'll get £100 to play with. The wagering requirements on this are pretty standard at 30 times, although this is just for the money won through the bonus, rather than a requirement for the whole bonus and/or the initial deposit, which makes it a reasonable deal, competing with many of the offers from much larger companies out there.

NetBet casino reviews  fin that you'll also get 25 free spins to start you off, with a maximum win from that bonus set at £250 (although wagering requirements still apply here, too – up to 40 this time.) Overall, it's a pretty decent opening bonus package on offer, if nothing outstanding. There are also regular promotions and special offers for any visitors, which help to boost the bankroll of loyal customers to make you feel like you're not being left out in favour of new arrivals. These are pretty nice and can range from prize drops to free spins, and you'll be informed by email (if you wish) of any new offers so you won't miss out. Overall, the bonus package on offer is a decent one – there are no hidden rules or impossibly high wagering requirements, and it's all pretty simple stuff. It's not the greatest on offer out there, but it's certainly competitive and it's hard to really fault it.
NetBet Casino Best Games To Play
This NetBet casino review finds that NetBet casino uses a variety of third-party software developers to provide its games to customers, so you're assured of a pretty extensive and high-quality library, with plenty of variety involved. While, as with most online casinos, the focus is on the slots, NetBet also comes with one of the largest collection of table games you can find, which is another nice addition. There are a huge number of varieties of roulette, video poker, and blackjack to get stuck into for players who prefer table games, and having used different sources, you can find plenty of ones that you won't have seen on other online casinos. The use of so many providers can make them a bit of a mixed bag, but variety is the spice of life and the quality on offer is generally set at a high standard – there's not too much filler despite the choice.
As for the slots, you'll find a similar combination of choice and variety, with some great progressive jackpots if you're feeling lucky enough to grab one of the massive prizes on offer. In general, it's a really nice mix and certainly competes with the biggest online casinos out there.
NetBet Casino Software & Gaming Graphics
As we've mentioned, NetBet casino uses a wide range of third-party software developers, and while some of the choices they've opted for are relatively obscure, in general you won't find that quality is compromised too much, with the games being of an excellent standard, for the most part. The graphics are impressive, while still very efficient to run, even on older devices. You'll also find some good tech backing up live dealer games on NetBet, which is always a welcome and immersive experience – just like being in a real bricks-and-mortar casino.
Tying all this together is a very well-designed website which is easy to navigate around and usually shows all the information necessary within a single click. NetBet have also adapted their site for mobile viewing pretty adequately, although there's no dedicated app for hardcore mobile gamblers. NetBet certainly isn't another identikit casino taking all of its games from the same source and ending up indistinguishable from other sites out there – it definitely has a personality of its own, which is always great to see.
NetBet Casino Online Support
NetBet casino review finds that NetBet casino has the usual three most popular methods of contacting them for your customer support needs. You can reach their support staff by email, telephone, or a dedicated live chat system, and for the most part, their staff are helpful, knowledgeable and efficient in solving any problems you might have, with few NetBet customers reporting any major long-term problems.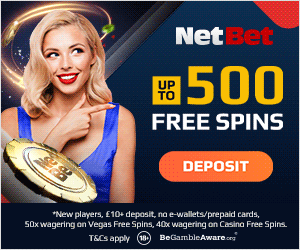 The one problem is that, unlike many other major online casinos, NetBet's support isn't offered 24 hours a day. It's only accessible from 8am to midnight UK time, which means that when it comes to opening hours, it's lagging behind many of its competitors somewhat. While NetBet hasn't had a particularly high number of problems reported by customer reviews of NetBet Casino , it's frustrating not to have the support available around the clock, as is common for most large online casinos. It's not exactly a deal-breaker, particularly with so few issues reported and the staff being very helpful when they are around but it would be better to have the option, as many of their competitors do. It's even worse if you're a player from outside Europe, where peak hours are far more likely to coincide with the downtime.
NetBet Casino Deposits & Withdrawals
NetBet reviews pick up on the fact the site has greatly improved their previously problematic payment system, so now you have a far wider range of options when it comes to depositing and withdrawing money to move it to and from your account. Most major credit and debit cards are accepted, as are a range of e-wallets such as Skrill and Neteller, although there's no option to deposit or withdraw via PayPal, which is a minor annoyance, as along with other e-wallets, it usually proves the fastest way to get your hands on your winnings.
NetBet don't state explicitly whether they add their own internal processing time, or 'pending period' on to transfers, although it appears as though they do. Most of the withdrawal times for payment methods listed on the NetBet website are extended by one to three days longer than they take at their quickest, extending even e-wallets beyond the usual 24 hour withdrawal time. This is frustrating, as it's a needless amount of time added for players to be able to get their hands on their own cash – it's hardly unknown for online casinos to do this, but there are certainly plenty that don't, and that banking system may put some players off gaming at NetBet Casino.
NetBet Casino Payout Policy
NetBet reviews  often seem to mention that NetBet Casino no longer appear to publish the RTP (return to player, or house edge) rates of their games, which is a bit frustrating. It's particularly annoying for high rollers, or players who like to sit down at one game for a long period of time, as there's no way of knowing which game is going to give you the best chance of minimising your losses over the long haul, and as a service freely offered by many other online casinos, it might be another way where some customers perceive NetBet as falling behind their competitors.
On the plus side, NetBet do publish, at the bottom of their site, their overall payout rate for the past calendar year, and it's pretty high, at over 96%. So customers can at least be assured that NetBet aren't ripping them off with their games – it's just that it would be nice to be able to compare them. Despite that, the option exists to try all the games out for free without risking your cash, so you can get a feel for them, although it still would've been preferable to have the full return-to-player tables available to compare the different individual games against one another.
NetBet Casino Pros & Cons
Pros:
Well-designed website backed up by some of the latest technology delivering a suite of great games
Excellent choice of both slots and table games to balance things out
A wide range of providers used to deliver plenty of less well-known and more unique games and give the site a personality of its own
Great options for live dealer games to deliver an immersive experience, like being in a real casino
Some competitive bonuses for new players and loyal customers alike
Some huge progressive jackpots available to won for players who like to chase the very biggest prizes
Generally huge choice of games available to provide one of the most extensive libraries in the online casino world
 High payout rates for their casino overall at over 96% for 2015
Site also optimised for mobile gaming
Cons:
Customer support not available 24 hours a day, particularly problematic for players outside Europe
Added period for withdrawals, meaning it takes longer to get your hands on your money than at many other online casinos
No published Return-to-Player rates for individual games, leaving customers with no way to compare them against one another
No option to deposit or withdraw cash via PayPal on the cashier section
Many games are unavailable for players on mobile devices
NetBet Casino In Summary
In summary, this NetBet review finds the site is far from a tacked-on casino addition to a sports gambling website. NetBet have clearly made the effort to put out a great product, and you can see the fruits of their labour in many sections of the site. The sheer choice on offer is genuinely staggering, and table games certainly haven't been neglected. What's more, the games are cherry-picked from the best third-party providers out there – it's not simply a case of a casino signing up to one developer and dumping their entire back catalogue on the site. With competitive bonuses too, it all adds up to what looks like a very good package indeed.

Despite that, this NetBet review finds customers might feel there are a few areas where NetBet falls short of the biggest competitors in the industry. Their lack of 24 hour customer support is bettered by a wide variety of other online casinos out there, while their withdrawal speed isn't the quickest either. The lack of Return-to-Player rates might frustrate other players, although with the overall payout rate published it's not a cause for suspicion – just a minor annoyance.
Overall, NetBet can be let down by the view that it doesn't really do anything spectacular or unique, and falls behind other online casinos in some areas. Many players might not be too worried, but while the bonuses are decent, they might not be reason to sign up alone if the rest of the site isn't what you're after. NetBet can be tried out completely free though, and it's definitely worth checking out to see if it's for you – there are a lot of good things about it. Have a look at www.netbet.co.uk.
Please check out our other casino reviews, including reviews on NoxWin, Party Casino, PartyPoker & PinkCasino.