PayPal, the world's most widely recognised online money transfer systems, has been around for longer than most people realise. Since it was launched in 1998, it has grown massively, both in size and popularity – in fact, it's just one of those things you will have come across at one point or another.
Like Facebook, eBay or a trip to the supermarket, PayPal is such a big part of modern life that it's almost unavoidable at this point. You may have used it to pay for your auction online, you may have simply used it to wire money to a friend who picked up the tab on your last night out. The question is, have you ever considered using PayPal the next time you stop by your favourite online casino?
While it was bought out by eBay in 2002, PayPal is used for much, much more than just paying for those online auctions you just won. In fact, there are hundreds of online shops and casinos that accept PayPal, and believe it or not, there are a couple of very good reason why you should be jumping on the PayPal train. Here just a few of the benefits you'll come across when opting for casinos that accept PayPal as a payment method.
So beside the facts that you probably already have a PayPal account, PayPal is entirely safe, secure and highly trusted. The reason for this is that PayPal keeps all of your bank details to itself. Every time you hand out your card details to another platform, you're risking your details being lost, hacked and stolen. While online casinos are generally incredibly secure, not everyone uses the same level of encryption at the end of the day.
On top of this, using PayPal saves you from having to reach for your wallet every time you want to top up a new account. If you're after trying your hand at multiple casinos, PayPal becomes doubly useful too, consolidating all your casino spending under a single, instantly recognisable name – PayPal.
Casinos that accept PayPal also come with the added bonus that you can use your account in almost 30 currencies, with deposits and withdrawals all being made to and from multiple accounts with extreme ease. This is fairly important not only because it lets you play and pay for games in the US, in the UK or in a number of other currencies and countries. If you want to chop and change between different casinos, you don't have to worry about figuring out how you're going to pay for it either – you PayPal account will, more often than not, take care of this. In almost all cases, your PayPal will even tell you exactly how much this will cost in good old-fashioned pounds sterling, too – doing all the maths and working out the exchange rates then and there, keeping things simple.
To make things even easier, you can manage all of this from your phone, your PC or anywhere else that has a stable internet connection. The fact that you can make your casinos deposits and withdraw your funds as conveniently you like is just a bonus – if there's one thing that we love, it's bonuses!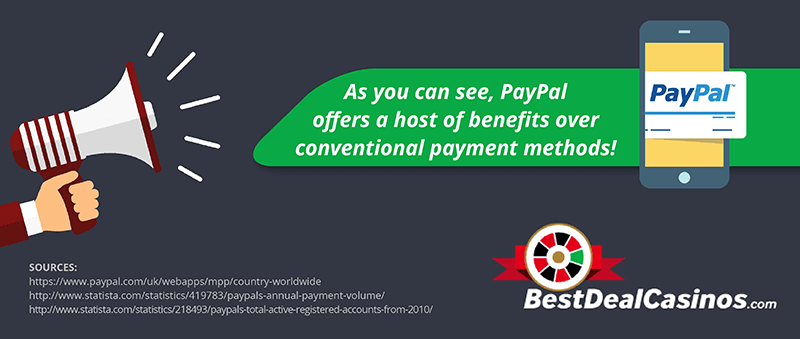 As you can see, there are a huge number of benefits to choosing the right payment method when you take to your new favourite online casino. Here at Best Deal Casinos, we will be keeping you up to date on all of the best casinos that accept PayPal here in the UK, helping you make the most of your time at the table. The same goes, of course, for anyone who spends time at the slots, at the races or anywhere in-between. Remember, if you're curious about which casino is best for you, make sure you check out our online casino reviews today!